State of the Art
The Standard Model (SM) of elementary particle physics is not the final microscopic theory of the universe. Its success being beyond question, the SM exhibits striking shortcomings. Apart from the fact that it does not unify all four forces of nature in one common framework, the SM fails to explain the very origin of matter. According to the SM, both particles and their antiparticles should have been produced in (nearly) equal amounts in the early stages of the universe. Yet, we observe an enormous surplus of denominational matter over antimatter, the so-called Baryon Asymmetry of the Universe (BAU). This is one of the great unsolved problems in physics.
Electric Dipole Moments (EDMs) as Source of P and T Violation
The existence of electric dipole moments of elementary particles (in particular of leptons) would indicate P.and.T-violation and by virtue of the CPT theorem, (CP)-violation. This is one of Sakharov's three conditions which have to be met for explaining the BAU.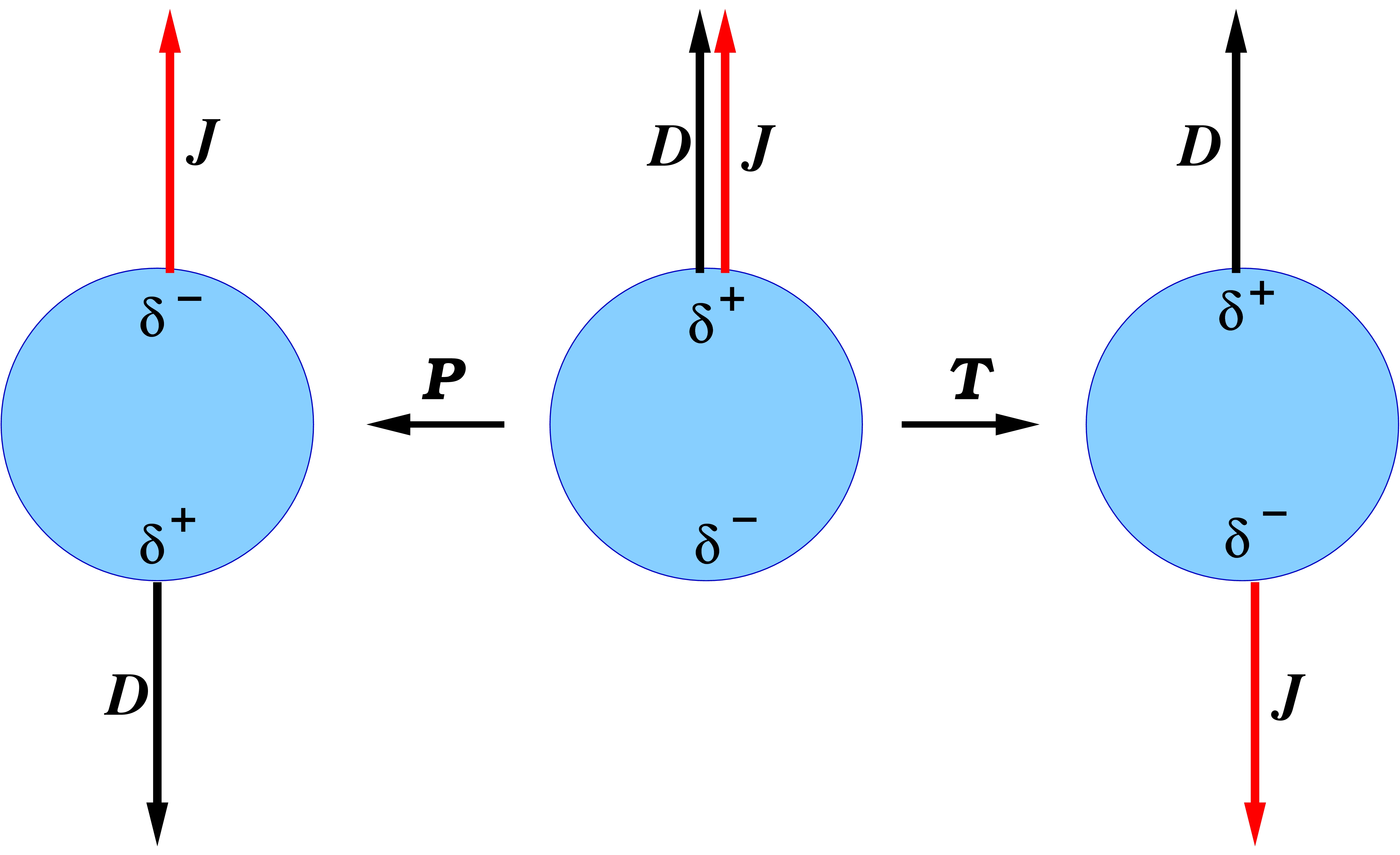 If an electron, for instance, had a non-vanishing electric dipole moment, the ensuing interaction with an external electric field would be Parity (P) and Time-reversal (T) violating. Such a dipole moment is assumed to be induced by fundamental interactions with other particles.
Within the framework of the SM, the EDM of the electron could have a non-zero value. However, since the only known CP-violating mechanism in the SM involves mesons with non-zero strangeness or bottomness, higher-order loop diagrams with virtual quark-antiquark pairs are required for producing an electron EDM. Its value is in this context therefore immeasurably small, on the order of 10
-38
e cm.
Extensions to the SM such as Grand Unified Theories (GUT) and SuperSymmetric models comprise new sources of (CP)-violation which entails many orders of magnitude larger values of particle EDMs. In Minimal Supersymmetric Extensions to the SM a host of new particles is assumed to exist which would allow for one-loop induced EDMs, boosting the electron's value to an order of 10
-27
e cm. Such a value reaches into the measurable range of today's modern experiments. Electric dipole moments are unparalleled probes for new (CP)-violation with a sensitivity beyond the reach of the Large Hadron Collider (LHC) for direct detection!
What are we heading for ?
The search for EDMs of elementary particles is, therefore, also the search for New Physics (NP) beyond the SM. However, not only the spectacular goal of detecting an EDM is of interest. NOT detecting an EDM in a certain range of values is one important of many guides on how possible extensions to the SM, consistent NP theories, should be conceived.
Other symmetry-violating interactions accessible by our methods are the scalar-pseudoscalar electron nucleon interaction (ENSPS, P.and.T-odd), the nuclear magnetic quadrupole moment - electronic magnetic field interaction (P.and.T-odd), and the nuclear anapole moment (P-odd).